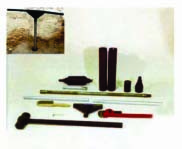 PP 23-1268/1 HAND BOR
Soil Equipment

Drilling for soil sampling preparation. For sampling to a depths of 10 metres depending on the type of soil. Sampling up to a diameter of 68 mm and 100 mm for iwan type auger.
Dimensions (l x w x h)

105 x 60 x 60 cm

Gross Weight

130 kg
Consists Of:
Drilling Rod, Solid bar, 1 m length, 1 1/4" dia.
Iwan Type Auger, Welded steel, two radial blades, 4" dia.
Straight Choping Auger, Steel bar, hardened tip, 45 mm width
Tube Adaptor, Machined steel, with 3 clamping bolts
Turning Rod, Machined steel, 1 1/4" dia, 60 cm length.
Sampling Tube, 68 mm dia, 40 cm length, with 3 bolt holes.
Rod Head, Hardened, machined steel, 2-1/2" dia
Vertical Guide, Machined Steel
Allen Key, Hardened steel, 1/4"
Steel Wire Brush, Wooden handle
Back to List
|
Add to cart